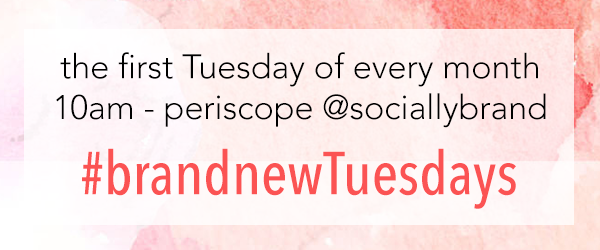 Over the last few weeks, we have introduced BrandNewTuesdays to you all through our Instagram and Periscope. This is a time for us to share free tidbits, brand advice, and the latest in social media happenings to our friends. We originally set to do it weekly … and have now discovered that it will work better for us to do it monthly. Having it weekly felt like there wasn't enough time to prepare new content in between episodes. We always want to bring you fresh, new content – so having it monthly feels like a more manageable approach for us.
And, even though the scopes only last on Periscope for 24 hours, we are working on an access-only area of the website which will have ALL PAST BRANDNEWTUESDAYS on it! Yay!
So, for now we will be coming at you on Periscope on the first Tuesday of every month at 10AM EST. Follow us here to be notified when we go live – we love to chat with you online!